Spotlight Feature: Animal Aid Unlimited
Photo credit: Animal Aid Unlimited
June 30th 2020
Founded in 2002 by James Myers, Erika Abrams and Claire Abrams-Myers, Animal Aid Unlimited (AAU) is a charity dedicated to rescuing and treating ill and injured animals on the streets of Udaipur, India. Known as the City of Lakes, Udaipur is a picturesque city located in the southernmost corner of Rajasthan but, like many cities in India, Udaipur is no different when it comes to the harsh realities that street animals face on a daily basis.
Whether from deliberate acts of cruelty, motor vehicle collisions, sickness or exploitation, when street animals become injured or ill, there is little to no help available, so even minor conditions can quickly spiral and often cost them their lives. The situation is particularly dire across the subcontinent:
"In the USA, there are 13,000 shelters for animals with a population a third the size of India. In India, there are fewer than 50 shelters with staff greater than four and a population three times that of the USA." Erika Abrams, Co-Founder, Animal Aid Unlimited.
Fortunately, AAU provides a lifeline for the street animals of Udaipur. Their staff of 90 administers treatment to animals on the street if their injuries or conditions are relatively minor. Other more critical cases are dealt with at the hospital where, throughout the course of the year, they will treat approximately 7000 sick and injured animals. In addition, they provide sanctuary and a permanent home to around 200 disabled and special-needs animals. Thanks to the work of AAU, many animals have been given a second chance.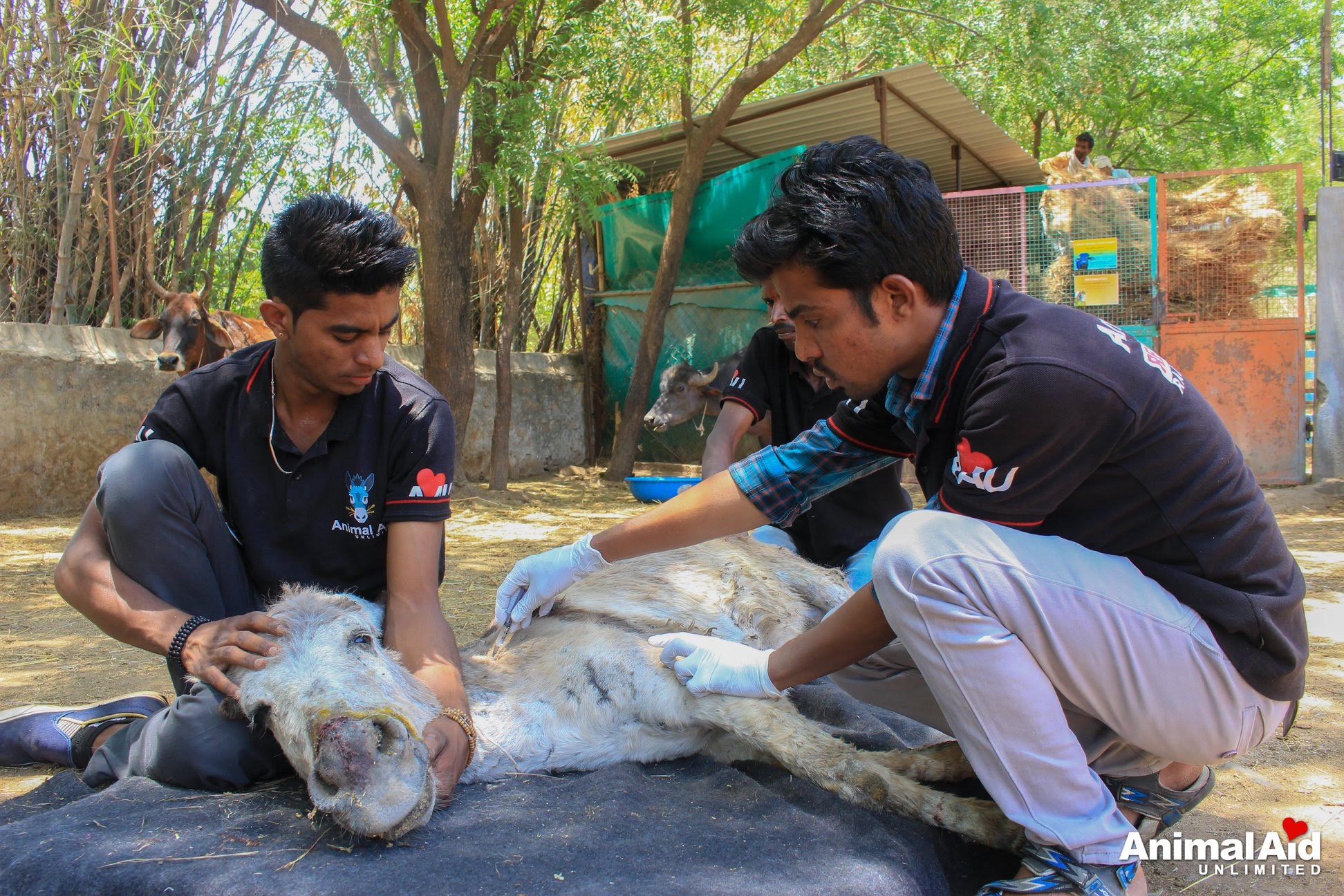 As well as rescuing street animals in need, the work performed by AAU also helps to inspire community-wide compassion towards animals:
"When we rescue an animal, a crowd often gathers and they witness an animal being treated with kindness… Most people who see an animal being rescued today are more likely to spot an animal tomorrow who needs help and report the problem." Animal Aid Unlimited.
Witnessing an animal being treated with kindness and compassion can have a profound impact and help to foster empathy towards animals. AAU runs a Community Outreach and Education program that provides opportunities for people to connect with animals and learn how to help street animals in need. Simple measures such as applying anti-fly cream to wounds to prevent infestation by maggots can make a big difference to the health and well-being of an injured street animal. Since 2018, AAU has run a first aid and animal handling program, which is geared toward residents of areas where there is little access to veterinarians or facilities specialising in treating street animals. This week-long program includes instruction in the practicalities of handling injured animals, which is conducted by highly experienced staff and based on internationally recognized veterinary medicine protocols.
Part of AAU's outreach program also includes compassion education for school children. Through classroom visits, AAU has reached thousands of children to spread awareness about how to help rescue injured animals, as well as creating mindfulness about other ways to help animals such as humane pet guardianship, dog bite prevention and the importance of reporting cruelty.
Animal cruelty is rife in many parts of the world and, sadly, India is no exception. Homeless and free-roaming animals living on the street are frequent targets. In 2018 AAU's Cruelty Response Officer responded to 23 reports of cruelty to animals, conducting on-site investigation and reporting to the police. The cases involved abandonment of owned dogs and cases of intentional harming of animals.
In addition to rescue and outreach, AAU also provides vaccinations to every animal patient they treat, and they also vaccinate hundreds more during neighbourhood rabies drives. India accounts for roughly 36% of all global rabies deaths and with an estimated stray dog population of 25 million, it is unsurprising that it is still a considerable public health issue. In countries with large populations of street dogs, the most effective and humane method of dog population management is through a Catch-Neuter-Release program. To this end, AAU operate an extensive spay and neuter program, conducting around six to ten sterilisation surgeries, six days a week.
Through the rescue of ill and injured street animals, and their focus on community compassion and the prevention of suffering, AAU is a model for on-the-ground action and long-term advancement for the protection of animals. Like many animal charities, the Covid-19 pandemic has had a devastating impact on funding and resources, and staff at AAU have been stretched to the limit. Even though lockdown has now ended in the region, the ever-present dangers faced by street animals is an ongoing crisis. Please support Animal Aid Unlimited and help them to continue their vital, life-saving work.
Donate: https://www.animalaidunlimited.org/donations/monthly-donation/