Projects
Humane Aware aims to contribute to policy discussions around animal welfare by bringing a social science analysis to the debate. Find our current projects, policy work and publications here.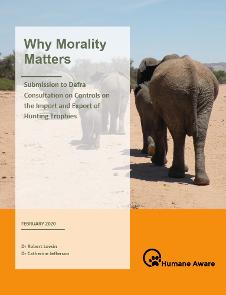 Trophy Hunting and the Import Ban
Public discourse around trophy hunting has intensified the past few years since the 2015 killing of Cecil the lion in Hwange National Park in Zimbabwe. Furthermore, several countries, including the United States, Australia, France and the Netherlands have enacted legislation designed to restrict or ban the importation of hunting trophies from certain species. This, together with other decisions, appears to have amplified a complex and controversial debate around the role of trophy hunting in conservation.
Read our submission to the Defra consultation on controls on the import and export of hunting trophies here.