Have a Cruelty-Free New Year!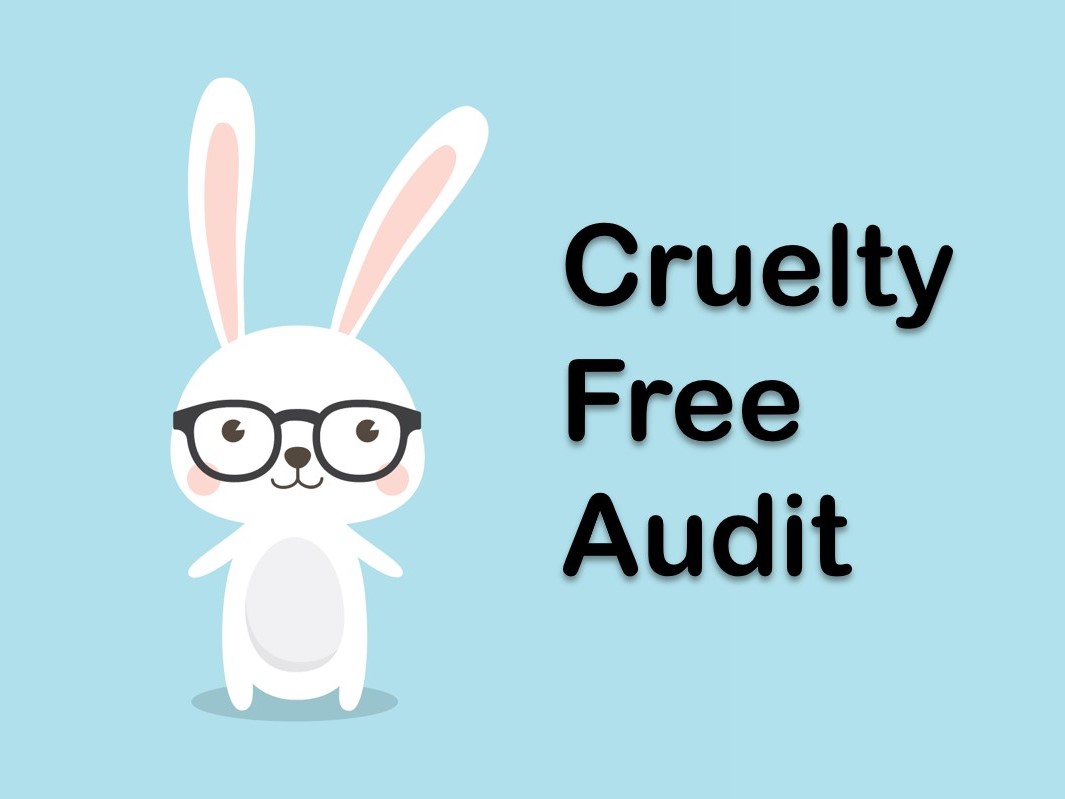 December 30th 2019
Losing weight, exercising more and quitting smoking top the list of many people's New Year's resolutions, but since around 8 in 10 people abandon their new year's resolution by February maybe it's time to make a different kind of commitment.
This year, we are encouraging people to take part in a cruelty-free audit for their New Year's resolution. In the same way that a company might perform an internal audit to investigate their processes and make improvements, a cruelty-free audit is an examination of all the cosmetics, toiletries and household products we buy and use to see if we could be doing better for animal protection.
We coined the term cruelty-free audit when we performed our own audit of the products we buy and use. Despite always opting for supposedly cruelty-free products we were shocked to discover that some of our choices were falling short in certain areas. For example, while the use of animals to test cosmetics products or their ingredients is banned in the UK and all other member states of the EU, if a brand sells their products in China, then Chinese law requires that those products undergo pre- and post-market animal testing. Companies that sell their cosmetics in China cannot, therefore, be considered cruelty-free. China has approved several new alternatives to animal testing that will come into effect from January 1st, 2020, which is a great step forward, but sadly these regulations do not outrightly ban the use of animals in pre-market testing, nor do they impact post-market testing requirements (Logical Harmony).
Embarking on a cruelty-free audit can feel overwhelming at first but don't worry, help is available. Here are some of the resources we have found most valuable that will hopefully help you to kickstart your cruelty-free audit.
Leaping Bunny Logo - The cruelty-free label can be confusing and some companies may come up with their own definition of cruelty-free that falls short. Look for products that are Leaping Bunny certified. The Leaping Bunny Program requires that no new animal testing be used in any phase of product development by the company, its laboratories, or ingredient suppliers.
crueltyfreekitty.com - Cruelty-Free Kitty provides an extensive and well-researched database of brands that are cruelty-free, as well as products that are vegan and eco-friendly. Cruelty-Free Kitty also blows the whistle on brands that make misleading claims or exploit loopholes so you can be sure that the brands included in their database are 100% cruelty-free.
Cruelty-Free Apps - Download a cruelty-free app that allows you to scan the barcode of a product while you're on the go for a quick assessment of whether it ticks the cruelty-free box. We like the Happy Bunny: Shop Cruelty-Free app, which also lets you filter your product search by vegan-only products.
Once you have completed the audit of your products and come up with an exciting list of alternatives, it's tempting to want to rush out and buy them straight away. However, we would encourage everyone to use up the products they already have before switching to a cruelty-free alternative to avoid creating unnecessary waste. Alternatively, consider donating your unwanted products to homeless shelters, refuges, food banks and other organisations working to help alleviate hygiene poverty. Toiletries Amnesty has created a directory of organisations that will take unwanted toiletries and cosmetics - even partially used ones - which makes it even easier to donate unwanted items.

Changing our purchasing habits doesn't have to happen overnight but hopefully, by phasing in small changes, this is one New Year's resolution we can all stick to. Here's to a cruelty-free 2020!
Update January 1st 2021
We would like to give a shout out to Skyla for finding this great cruelty-free resource on The Derm Review and for sharing it with Humane Aware. Thank you Skyla and Mrs Beretz!
Update August 28th 2021
A big thank you to Hudson for finding this useful Guide to Cruelty-Free Beauty Shopping and to her mum Karen for sharing it with Humane Aware. Thank you both so much!
Update April 29th 2022
Huge thanks to Katie for finding this wonderful vegan and cruelty free clothing guide and to her mum Kelly for sharing it with Humane Aware, that's awesome! And good luck on your Voice for Animals Badge Katie, keep up the great work!
Update February 7th 2023
Big shout out to Lily for finding this comprehensive guide to cruelty-free skincare and for sharing it with Humane Aware. Thank you Lily and Mrs Gianakas!