Small Animal Charities Face Crisis During Pandemic
Photo credit: OSPA
April 14th 2020
The devastation caused by the global spread of novel coronavirus Covid-19 has impacted every sector, and the charity and not-for-profit sector is no exception. Indeed, many charities of all sizes are being critically affected by the loss of income that the lockdown has caused. The closure of visitor centres, cafes, charity shops and the cancellation of fundraising events is severely hitting charities' income generation and, for many, their bottom line.
The National Council for Voluntary Organisations (NCVO) estimates that charities in the UK could face lost income in the region of £4 billion in twelve weeks as a result of the crisis (NCVO). The Government has announced a package of support for charities of £750 million with £370 million allocated to smaller organisations delivering frontline services via the National Lottery Community Fund (NLCF) and £360 million from government departments to support existing voluntary sector partners. Unfortunately, it looks like animal charities will not easily fit into the eligibility criteria of the NLCF.
While larger organisations may be able to fall back on reserves, the familiarity of their "brand identity" or clever marketing campaigns, smaller, lesser-known animal welfare charities could face insurmountable financial challenges and ultimately closure. For many small charities, the Covid-19 crisis compounds a larger problem of securing enough income to maintain operations. Over the last decade, small charities (defined by NCVO as those with an annual income under £100,000) saw a 20% decrease in their overall income while major charities saw their income increase by 30% (NCVO).
Yet, despite operating with limited budgets, many small charities do incredible work, creating significant impact at the local level. For example, Friends of Animal Wales is a small animal charity based in South Wales that rescues, rehabilitates and rehomes discarded puppy farm dogs. The charity is run entirely by volunteers so every penny donated by the public goes directly to help the animals. Since many of the dogs rescued have health problems as a result of cruel puppy farming practices, vet bills form a big part of their overheads. With the outbreak of Covid-19, they have had to cancel fundraising events and shut their charity shops, losing vital income.
Beyond Britain, animal rescue centres are facing the same struggles and, for some, the situation is even worse. Organização Salense Proteção Animais (OSPA) is a rescue centre on the island of Sal, Cape Verde, that is doing amazing work to help street dogs and cats. As well as operating a small rescue centre, they also run mobile clinics to treat and spay street dogs. Due to current travel restrictions and the sudden loss of tourism to the island, OSPA has found that the street dogs of Sal, many of whom have become accustomed to being fed by tourists, are going hungry. OSPA is still running its weekly clinic and trying to provide food and water to as many strays as possible but, with limited capacity, the situation is becoming very difficult.
Over the next month, we will be promoting a number of small animal welfare organisations that are doing incredible and, at times, heartbreaking work to help animals here in the UK and internationally. We want to encourage people to donate the cost of a coffee to these organisations to help them through this unprecedented crisis. For many of these charities, even a small donation could make a big difference.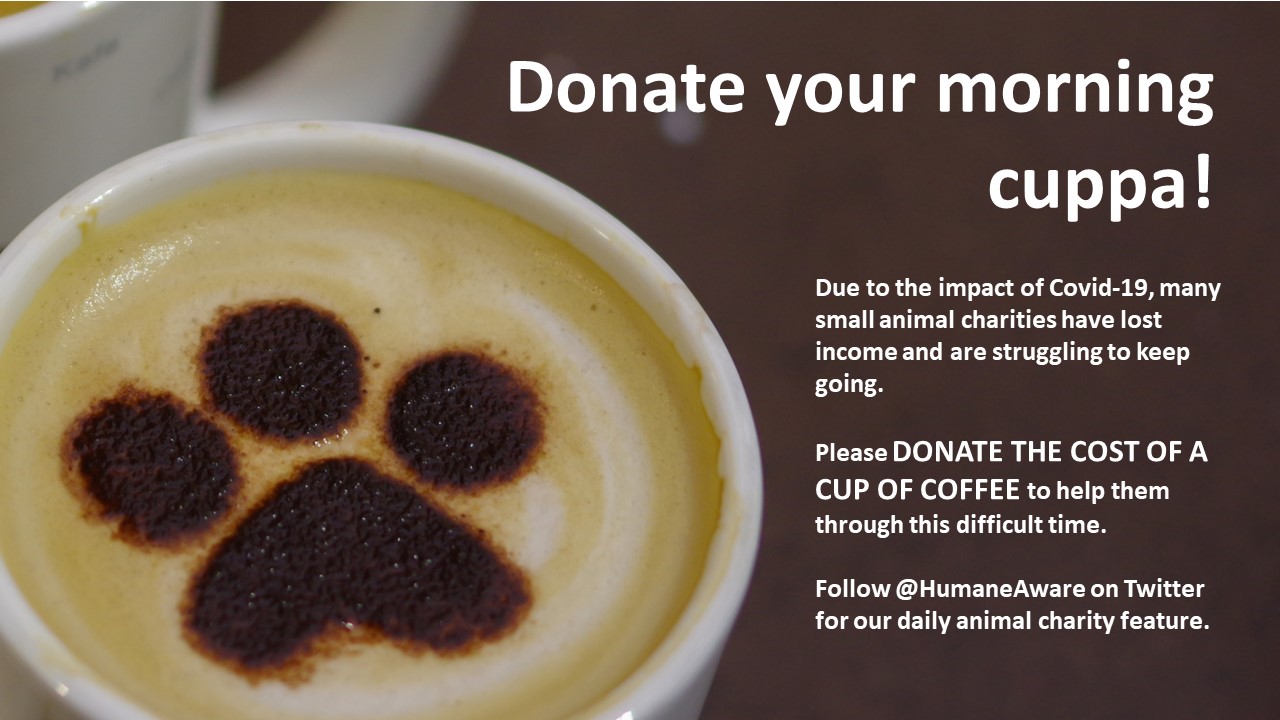 Follow us on Twitter for updates.